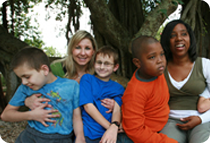 Tomorrow's Voices - Bermuda Autism Early Intervention Centre was the brainchild of two parents of autistic children, Mrs. Tricia Simons (Crow) and Ms. Thea Furbert. These parents felt that there was a need for a place that could provide hands-on Applied Behavior Analysis/Verbal Behavior services for children on the Autism Spectrum.

With the help of donors, the autism community, friends and family their brainchild became a reality with Tomorrow's Voices – Bermuda Autism Early Intervention Centre officially opening its doors to clients in October 2007.

Tomorrow's Voices is designed to meet the individual needs of children who are diagnosed with Autism or on the Autism Spectrum between the ages of 2 and 21 years of age.

Autism is characterized by severe and pervasive impairment in several areas of development: reciprocal social interaction skills, communication skills, or the presence of stereotyped (repetitive) behavior, interests, and activities. Our language based programme provides therapy within a Verbal Behavior (VB)/ Applied Behavior Analysis (ABA) environment with a maximum of 1:2 therapist-to-child ratio for our clients.

Within Tomorrow's Voices' unique generalization framework, our general curriculum teaches each child critical language skills, functional activities, socialization, initiation/spontaneity and generalization of mastered concepts/skills.

These skills are built into every child's educational program and individualized to meet his or her learning style and unique needs. The overall goal of Tomorrow's Voices is to provide our clients with the skills to assist with their reintegration into their neighborhood schools with minimal supervision and to provide them with a better quality of life through intervention.